Service Center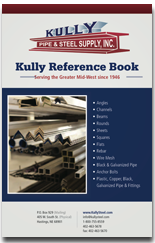 The Service Center, a wholesale and retail steel service center, is always ready to meet light fabrication and retail needs of its customers. Bundles of steel material direct from the mill are kept in stock ready to be fabricated and sold either by the foot, piece, or bundle. The Service Center is able to supply any work tool needs and is a proud supplier of Milwaukee tools.
The Service Center provides all encompassing steel product services, including:
Metal shearing
Metal breaking
Pipe threading
Saw cutting
Light welding
Repair work
Steel fabrication
The Service Center is available to meet the needs of a walk-in individual or a group. In the past the Service Center has provided maintenance of major factories and product for local school metal shops. The Service Center is here to provide you with everything you need to know about steel and piping.
The Service Center services most of Nebraska and Northern Kansas and specializes in just-in-time, scheduled deliveries. Some of the areas that the Kully Steel and Piping Supply service center covers include:
Hastings, NE
Grand Island, NE
Kearney, NE
To view a detailed list of all the available products Kully Steel and Piping offers, please see our reference guide on this page.