Rebar Fabrication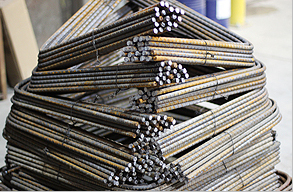 The Rebar Fabrication Division located in Hastings Nebraska is ready to meet the rebar needs of any project, from small rebar for residential buildings to tresses for 10,000+ square feet commercial buildings. The division uses a new rebar line able to fabricate up to 60 feet and 3/8 to 1 inch diameter rebar. 
Like the Structural Steel Division, the Rebar Fabrication Division accepts projects on a client-by-client basis but about 90 percent of the projects are bid work. As such, the Rebar Fabrication Division will estimate and detail the job, seal it through the shops, and take responsibility for any problem solving until the job is complete.
The Kully Pipe and Steel Rebar Fabrication Division has worked on the following projects:
the new bank in North Platte
Mary Lanning Memorial Hospital in Hastings
Hastings College Morrison Reeves Science Center and dormitories
IMAX theater in Omaha
Various local medical facilities in the Nebraska area
While most bids are made in greater Nebraska, projects have been completed as far away as Bentonville, Arkansas and California. Contact Kully Pipe and Steel about any rebar needs, there is no project too big for Kully Pipe and Steel to handle.